Sorry, this webinar has now passed. Fill in the form at the bottom of this page to be emailed the recording.
Title: Let your SCOM alerts talk with ChatGPT
Presenter: Merijn Overgaauw, Marc van der Veer, Sameer Mhaisekar and Bob Cornelissen
Date: Wednesday 12 April 2023 at 16:00 CET (Europe – Amsterdam time)
Description:
We did a webinar about ChatGPT last time and we wanted to dive one deeper into combining the power of AI and ChatGPT with our other favorite product – SCOM – and see how that works out. Lucky our friends at GripMatix created something for that, so let's investigate.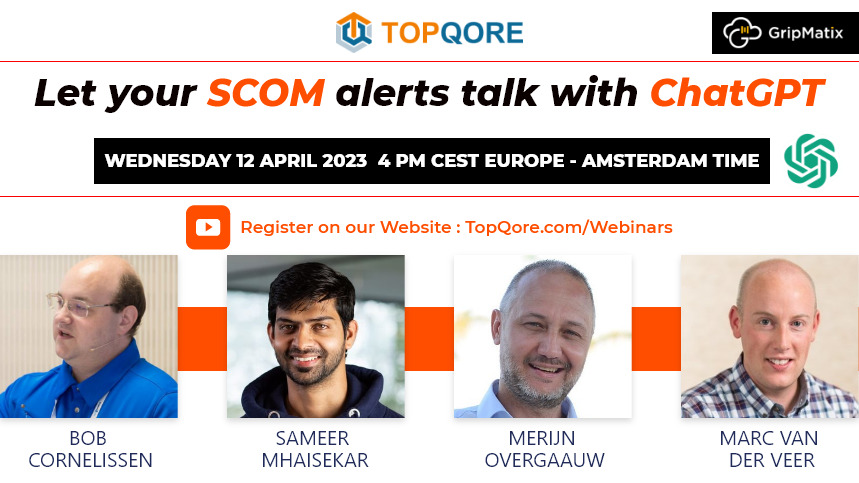 Bothered by a flood of SCOM alerts? Not sure what they mean? CPU is running high, some script is timing out, SQL is complaining about something (yet again!), sure. But how do I know what the alerts actually mean? Are they independent, raised on their own, or maybe a consequence of multiple other factors on the same server? Hmm. Questions, questions.
Our friends over at GripMatix have come up with the awesome concept of integrating SCOM with ChatGPT and letting it do the work for you. This integration will not only give you more context and a way of thinking in the right direction, but will also correlate alerts with other similar alerts open to see if they're related in some way. Amazing is an understatement!
Registering + attending the webinar OR registering to view a recording afterward through a form which will show up on this page can earn you a TopQore community badge!
The recording is also available on YouTube without registering through this link: https://youtu.be/iFDLsVULvWU
If you want to earn a badge, just use the form on this page and get a link in your mailbox.
Sorry you missed this webinar! Fill in the form below to be emailed the recording.