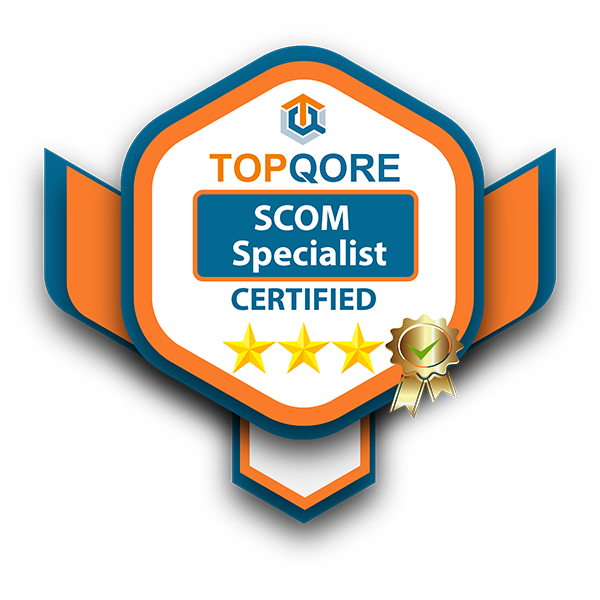 SCOM Specialist Training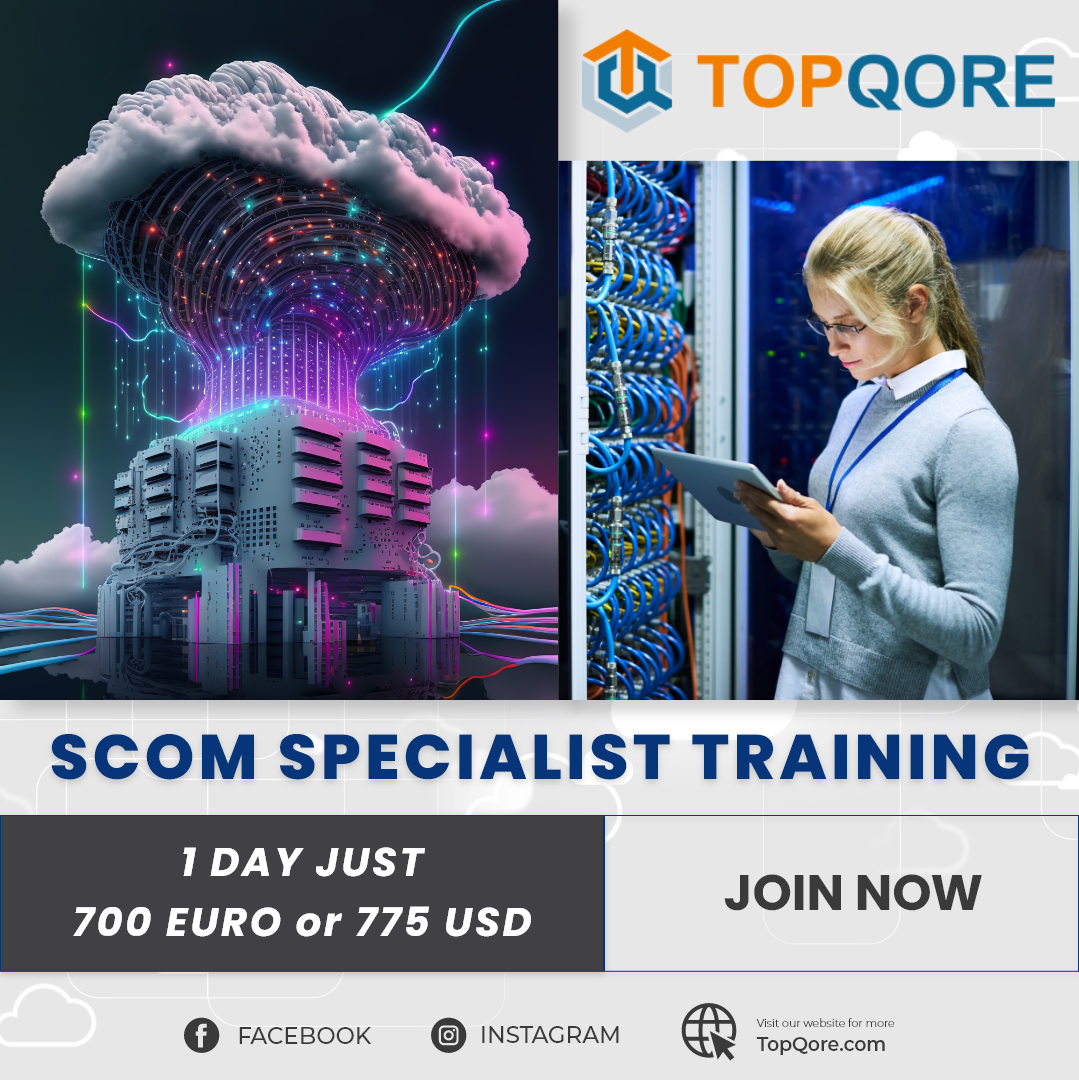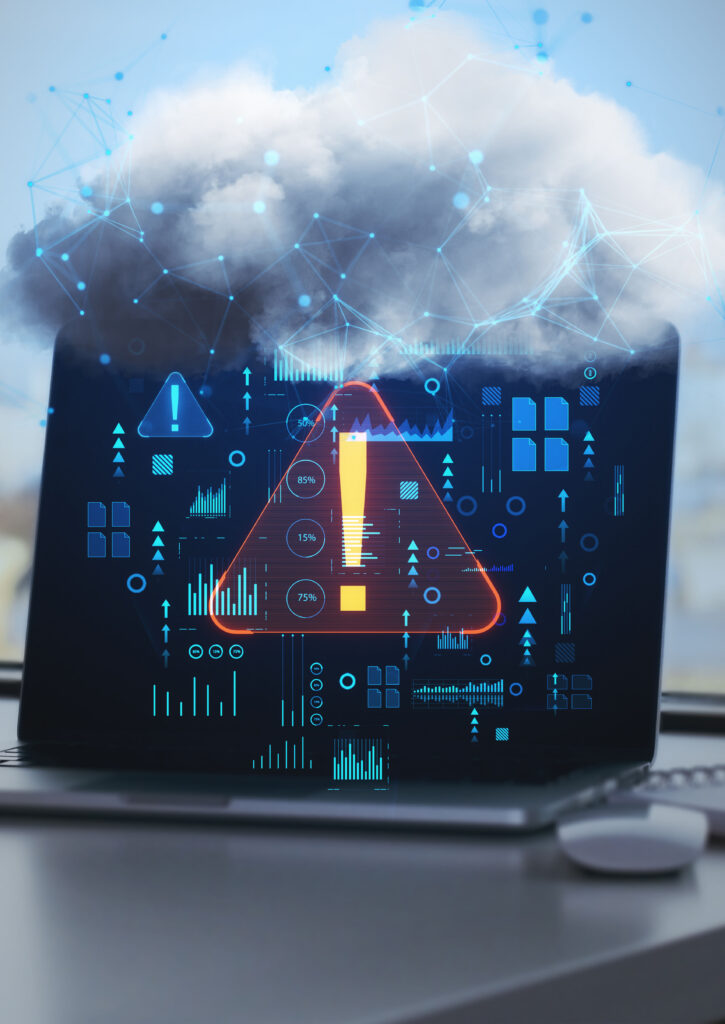 Whether you are new to Microsoft System Center Operations Manager (SCOM) or already have some experience with the product, you may want or need to gain more knowledge on this product. You could be newly assigned to a team managing SCOM or tasked to upgrade or extend the usage of SCOM in your organization. Our SCOM Specialist training is meant to give you additional knowledge you need to successfully administer/design/install/use specific features or solutions. This TopQore SCOM Specialist training is given by experienced SCOM consultants with years of hands-on experience in implementing and administering SCOM environments from small to large deployments in diverse business sectors. The course is created under guidance of a multi-year Microsoft MVP from TopQore, and features guest appearances by other MVP's.
Watch our other TopQore SCOM training introduction videos to get an insight in how this is setup :
Intended audience
Our SCOM Specialist Trainings cover subjects often encountered in SCOM environments, from complex designs to creating new monitoring, to monitoring specific workloads (Linux, Network, Web), and specific features of SCOM (AEM, ACS, APM). To get the most value out of our training, participants are expected to have prior experience with recent versions of Microsoft Windows Server. Basic understanding of Microsoft System Center products, Active Directory, SQL, PowerShell, and networking services is considered useful.
For our certification path, the SCOM Operator and SCOM Administrator certifications are a prerequisite for passing the SCOM Specialist certification. For more information regarding our TopQore SCOM Certification Path and possibilities, please visit our overview page.
These are the topics we receive requests for and we are working on creating this content. As soon as they become available the names in the list will become clickable to take you to the specific subject. The below list is not in order of importance or in order of appearance. We are looking at these Specialist trainings as potentially taking 1 day of training each – unless we feel the content is much smaller, in which case two will be combined; or when a subject is significantly larger we will use more training time.
Designing Advanced SCOM infrastructures and High Availability – This training will go through the list of roles and features of SCOM and examines what design decisions you are looking at when the numbers of agents or locations or domains get high or complex; We think about high availability of these SCOM infrastructure features; geo-redundancy; Gateways; Connected management groups; User roles design, etc.
Azure Monitor SCOM Managed Instance – In this training we will explain the how and why of Azure Monitor SCOM Managed Instance, which is a Microsoft Cloud-based offering of a managed SCOM instance. We show how to set it up and how to work with the components.
Management Pack authoring basics – In this training we focus on the basics of management packs and their components. Next, we will use the SCOM console to create monitoring scenarios, including extending classes, groups, monitors, rules, views, distributed app, folders, service monitoring, web monitoring. All of this is what could be done from the SCOM console, without being a developer of using MP development tools.
Management Pack authoring next step – In this training we are looking at creating management packs through authoring tools. This could be Silect MP Author, or VSAE. We look at the use of fragments to help build your solution.
Aligning SCOM with your business processes – In this training we look at how monitoring relates to your business processes. We go through distributed applications and dashboards and think about how to monitor not just a single server or a single application, but how these relate and are relevant to the business and in what way to display those.
Cross platform monitoring (Linux / UNIX) – In this training we look at setting up monitoring for Linux/Unix devices in SCOM, accounts, agents, monitoring, adding a basic monitoring script, which views and reports are available.
Network Device Monitoring – In this training we focus on adding Network devices into monitoring. This includes both ICMP and SNMP based monitoring. How to add the devices, look at SNMP access strings, which views and reports are available, how to use vicinity view etc. Depending on time, we may go into monitoring network devices through API's as well.
Hybrid monitoring – Azure Monitor introduction, Azure MP for SCOM, M365. We will be looking at hybrid monitoring, whereby we can monitor cloud resources from SCOM, or connect SCOM to cloud monitoring services, or where we use the cloud to monitor on-prem servers, or where we combine things.
Agentless Exception Monitoring (AEM) – In this training we show you what AEM is and how to use it, how to set it up and configure it from SCOM and AD, and give some examples of its use. This is likely a half-day item to be combined with another in this list.
Audit Collection Services (ACS) – In this training we look at the SCOM feature of Audit Collection Services, whereby we collect security audit logs from servers and are able to report on them. We discuss how to set it up from both the server side and the agent side, the security settings, the Reports and an option to respond to a limited set of high priority items.
Application Performance Monitoring (APM) – In this training we look at how to setup APM within SCOM for both server and client side monitoring of .Net web applications. How we can adjust some settings. What the web consoles look like for the developers looking at troubleshooting their applications.
SquaredUp web dashboarding – Having a good dashboarding solution is very important. There are many dashboarding solutions both within SCOM and outside of SCOM. SquaredUp is a web-based solution you can add-on to your SCOM environment (and also Azure Monitor and some other solutions), and create a lot of useful and popular dashboards with, to create overview and insights for both technical and non-technical staff within your organization.
Certification
As explained in our overview page for the SCOM certifications, the SCOM Specialist certification badge will be issued to those who have completed 4 of these trainings, or 4 of these specific subjects within a private training context.