We are supporting a small billiards club in the Netherlands called Bosrand78 in Apeldoorn. This club has 4 teams split across the C4 and C3 classes of the Dutch Billiards Federation (KNBB) area Stedendriehoek.
Billiards takes people out in another context outside of the home. It has several aspects of mental health (calculating the trajectory of balls and speeds and effects) and some physical aspects. Each match is a 1 person exercise against somebody from another team. But there is still a lot of teamwork involved both during and around the match itself. We have also found that while walking around the table for a few hours the number of steps also increase. Exercise is good for people having a mostly sitting job.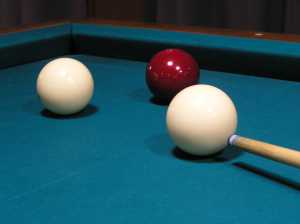 In the 2021-2022 season, there were 3 teams active within Bosrand '78 in the libre style C3 and C4 class. It was a special season where we have lost 2 players due to special and sad circumstances. Sportingly it was a successful season with one of the C3 teams making it all the way into the national finals and ending at second place! There were also other successes, such as a district champion C4 for Personal championships, and 2 team members getting certified as a level 1 referee. After the KNBB libre season finished, several players took part in the Deventer Bandstootcompetitie (1-cushion billiards).
The current season (2023-2024) already started with one C4 team, a C3 team and a C2 team.